Cirencester Shopping
Cirencester has a mix of shops that should cater for most people's needs.
Click here to visit the Cirencester Shopping Website
The main shopping area centres around the Market Place (recently rennovated to include a "shared space" for use by the town's market, the Cirencester Advent Festival and other such events), Dyer Street, Cricklade Street and Castle Street. There is also a small covered shopping area called Bishops Walk.
The Black Jack Street area has become a 'must visit' area with loads of 'nooks and crannies' to explore. And the re-development of the back of the Post Office area has brought further outlets to this area such as Gift, Soushi, Joli Beau and Pashon.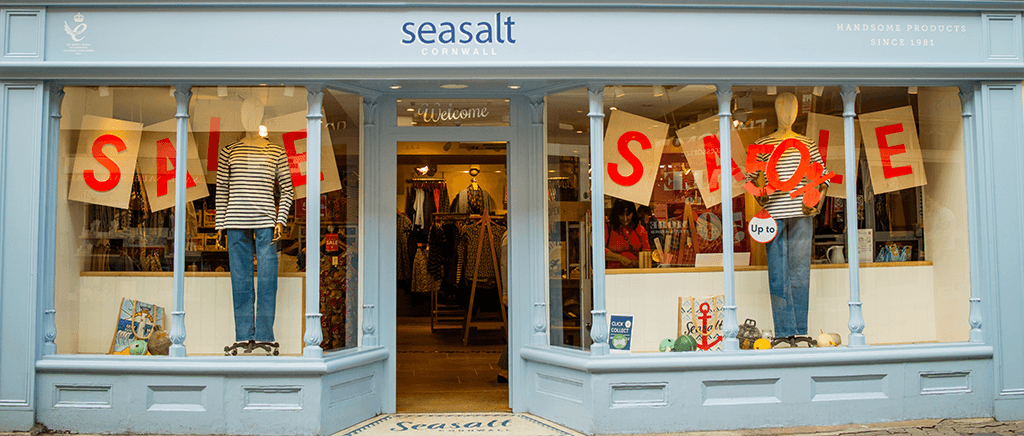 Seasalt in Cricklade Street

Womenswear is particularly well represented with many independent stores in the town (such as Jungle and Plum) together with established chains such as Seasalt, Dorothy Perkins and Sahara.
House of Fraser (previously Rackhams), in the Market Place, prides itself on being Cirencester's one and only department store.
Boots, Goldsmiths, New Wave Fish Shop and the West Cornwall Pasty Co. are further examples of the type of store to be found in the town.
Cirencester doesn't have a Currys, PC World or other large electrical retailer, but a range of electrical goods can be purchased from the catalogue shop Argos which has a presence in Dyer Street as does homeshop Gardiner Haskins. The camera shop Concord Foto is located in Castle Street.
Scattered around the town you will find the major banks and building societies such as Barclays, HSBC, Lloyds, Nationwide, Nat West, Santander and TSB.
The Cirencester Charter Market can be found in the Market Place every Friday.
On the outskirts of Cirencester you can find Dobbies Garden Centre and Tesco as well as a small retail park near the Love Lane area of the town.
Finally, if you are looking for businesses in the Cirencester area who sell exclusively, or mainly, online then you can view the online only Cirencester retailers page.
Parking in Cirencester
Cirencester shoppers have a number of town centre car parks to choose from, all of which operate a pay and display system.
These include the Abbey Grounds car park and The Waterloo.
There are a limited number of on-street car parking spaces dotted around the town centre, notably in Cricklade Street and Dyer Street.
Link: Map of car parks in Cirencester
Shops in Cirencester
Market Place and West Market Place
Crew Clothing
Pakeman Catto & Carter
Goldsmiths
Jones Bookmaker
Joules
Walter Bull (Jewellers)
Lock, Stock and Barrel
House of Fraser (Rackhams)
Coln Gallery
French Grey Interiors
Fat Face
Starbucks
Dyer Street and The Woolmarket
Gardiner Haskins
Crocodile Toyshop
Ride 24/7
Toomers
R.A. O'Donnell
Argos
Rieker Shoes
Marks & Spencer
Savers
Happy Hen House

Black Jack Street, The Old Post Office, Swan Yard
Keith's
He Says, She Waffles
Jungle
Jesse Smith's
Drizzle Chocolate
Lola
Octavia's Bookshop
Decimal Skateshop
Gift
Post Office
Verle Timepieces
Castle Street and Silver Street
WH Smith
R.Scott & Co.
Concord Foto
The Aga Shop
M.A.D.E
Plum
Clarks Shoes
Fabric Mills
R.J. Holmes
Vodafone
White Stuff
Brocks

Corn Hall and West Way
Appellation Nation
Sue Parkinson
Made by Bob
Wadham Trading
Witches Knickers
Stuart Wilson Hairdressing
Forum Design
Others
Tesco
Waitrose
Cotswold Country Living
Cotswold Living

Cirencester Shopping


Advertising your business here costs from £145 + VAT per annum
See the Advertising section for more details
Advertisements
Related Links