Corinium Museum, Cirencester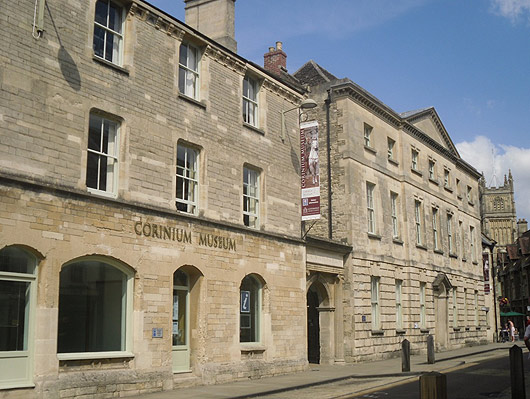 Leave the 21st century behind you and discover the treasures of the Cotswolds as you explore its history at this award winning Museum. Home to one of the largest collections of Romano-British antiquities extensively from Corinium, Roman Britain's second largest city.
Admire the work of Prehistoric metal smiths. Marvel at the Roman mosaics as you take a peek through the window of a Roman villa. Come face to face with the Anglo Saxons and their buried treasures. Be amazed by Medieval Sculpture, Civil War coin hoards and experience the elegance of Victorian Cirencester. An inspiring and interactive experience for everyone.
Special events, exhibitions and workshops take place through out the year and the museum is fully accessible with a gift shop, the Cirencester Visitor Information Centre and a Cafe on site.
Corinium Museum Address and Contact Details
Corinium Museum
Park Street
Cirencester
Gloucestershire
GL7 2BX
Telephone 01285 655611
Admission Charges
Adult: £4.95
Senior Citizen £4.10
Student (16+) £3.30
Children (5-15) £2.25
Family Ticket (up to 2A + 5C) 10% discount off adult/child charge

Annual season ticket (valid for 1 year)
Visit the Corinium Museum as many times as you like! A season ticket is valid for a whole year from the date of purchase and entitles the holder to free entry to the museum and temporary exhibitions.
It allows you to make the most of our busy program of events and exhibitions. Plus, it also gives you great discounts on lectures and workshops.
Adult: £14.60
Senior Citizen £11.50
Student (16+) £9.75
Children (5-15) £7.20
Family Ticket (up to 2A + 5C) 10% discount off adult/child charge
Opening Hours
Monday to Saturday
10:00am to 5:00pm April to October
10:00am to 4:00pm November to March
Sundays
2:00pm to 5:00pm April to October
2:00pm to 4:00pm November to March
The Friends of Corinium Museum invite you to Adopt a Roman Coin
The Tetbury Hoard was discovered in 2010 by a metal detectorist and excavated in the days following its discovery. The coins were declared Treasure and initially sent to the British Museum for analysis. They have now been generously donated to the Museum by the landowner and are ready to be conserved and put on permanent display.

The hoard consists of approximately 1500 coins dating from AD 260s – 280s. This was a time of great political upheaval in the Roman world. The coins are all from the denomination known as radiates.

The globular flask of the 'New Forest' type with painted decoration held the majority of the coins. The vessel dates to c. AD 300-330.

The Friends of the Corinium Museum, who were established in 2006 to raise funds to help acquire and restore new artefacts and to help promote greater interest in the Museum, are now asking for your help to conserve the coins and display them in the Corinium Museum.

The Friends Chairman Kevin Ronaldson said "at the heart of the Museum are its collections, the most important of which are the Romano-British collections from the Roman town of Corinium (Cirencester) and the surrounding area. We are asking for a minimum donation of £10 per coin to raise the funds needed to see the Museum's first Roman coin hoard on public display."

To find out more information about how you can adopt a coin please visit www.coriniummuseum.org/support-us/adopt-a-coin or contact the Museum on 01285 655611.

To find out more about the Friends of the Corinium Museum visit http://coriniummuseum.org/support-us/friends-of-the-corinium-museum/
Events at the Corinium Museum
2015 Events at the Corinium Museum
Recent Excavations in Cirencester
Afternoon Talk with Dr Alison Brookes
Thursday 12 November, 2.30-4pm
In 2011 and again in 2014 archaeologists have been stunned by the discoveries unearthed from the former Bridges Garage site. Join Alison to hear about the latest discoveries from Roman Corinium's western cemetery including the tombstone of Bodicacia.
Cost: £6 per adult, £5 for season ticket holders. Call 01285 655611 to book.
The Pipeclay Figurines from Roman Britain
An Evening Lecture with Matthew George Fittock
Thursday 26 November, 7-8.30pm
Pipeclay figurines provide key insights into the nature of daily religious life in Roman Britain. Summarising his ongoing PhD, this lecture will serve as an introduction to the topic and provide some initial results of this research. Matthew will discuss types of figurines, various deities, animal and human forms as well as distinctive patterns of consumption in Britannia and beyond.
Cost: £6 per adult, £5 for season ticket holders. Call 01285 655611 to book.
Corinium Cinema
We have some excellent films coming soon to the Corinium Cinema!
Suite Française
Thursday 12 November, 7pm
The Man from U.N.C.L.E.
Saturday 28 & Sunday 29 November, 2.15pm
It's a Wonderful Life with Tea and Cake
Saturday 5 December, 1.30pm
Christmas at Corinium Museum
Join us for some festive fun at the museum this Christmas. Explore the world of wonderful crafts with Christmas exhibitions from the Cotswold Craftsmen, Creative Forum and our very own Christmas Craft Fair.
We'll also be showing two festive film classics - It's a Wonderful Life and White Christmas.
You'll also find the perfect gift for family and friends in the Corinium Museum shop.
Contact details:
Corinium Museum, Park Street, Cirencester, Gloucestershire, GL7 2BX
Tel: 01285 655611 Email: coriniummuseum@slm-ltd.co.uk
Website: http://www.coriniummuseum.org
Advertisements
Corinium Museum Photos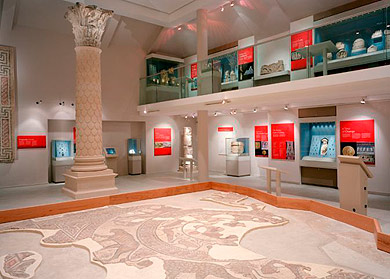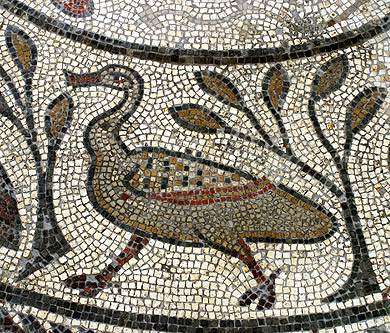 Corinium Museum News