The Talbot Inn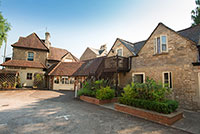 You have requested further details about The Talbot Inn, at present the details we have are as follows.

Description
Traditional Cotswold stone family run Inn with locally brewed real ales.

Enjoy eating excellent home cooked meals in the Paddock bar dining area or 'Al fresco' on the Stable bar patio.

Stay in one of our four ground floor courtyard rooms with private garden seating, or upgrade to the first floor oak beamed 'Hayloft' mini-suite, with balcony.

Conveniently situated within 2 minutes walking distance of Cirencester town centre and the National Express coach stop. Kemble train station is only 5 miles away.
Address
14 Victoria Road
Cirencester
GL7 1EN
Telephone
01285 653760
Website
Map
This Cirencester Business Directory query was generated on 18/10/2019 21:54:24
If you believe any information is incorrect, please email webmaster@cirencester.co.uk



Advertising your business here costs from £145 + VAT per annum
See the Advertising section for more details
Advertisements
Related Links